Sport & Facilities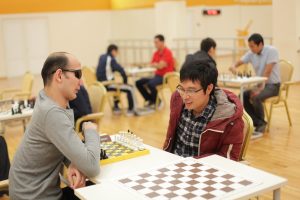 Nazarbayev University Sports Center is a 6000+ square meter multi-sport complex open for NU community.
Facility provides:
Multifunctional Hall for basketball, futsal and volleyball
Gymnastics Hall for gymnastics and cheerleading, martial arts and table tennis
Dance Room for choreography and fitness classes
Gym for students
6 fully-equipped changing rooms for men and women with showers and lockers
Medical Room that serves the visitors
Gyms
NU offers  open gym sessions.  Our gym instructors support your workouts with expertise by advice or in "one-on-one" mode via personal training. Gyms in Blocks 21 and 38 are available for our Faculty and Staff from 7.00 a.m. to 22.00 p.m.
Outdoor sports fields
NU also maintains 8 no-fee outdoor sports fields for basketball, football, volleyball, and tennis open for shared use to NU community.
Passes for Faculty, Staff, Campus Residents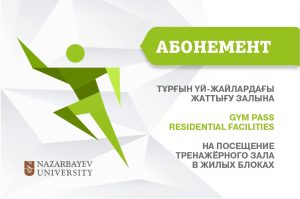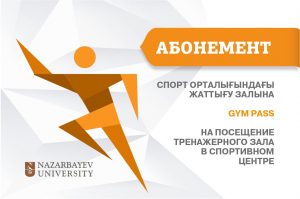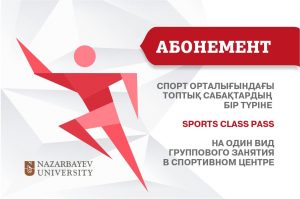 Multi-Visit Pass
Monthly pass for uninstructed or student sports club work-out at Sports Center, except for gym: KZT4000/month
Gym Pass
Monthly pass to gym at Sports Center: KZT5000/month
Sports Class Pass
Monthly pass for instructed sports class at Sports Center and other NU sports facilities: KZT7000/month
Personal Training
Personal training pass for personal or semi-personal training with coach/instructor at Sports Center and other NU sports facilities: KZT25000/12 sessions
Passes for Community
Sports Class Pass
Monthly pass for instructed sports class at Sports Center and other NU sports facilities: KZT12000/month
Access to sports facilities is allowed only to visitors with NU ID and a valid sports pass. Please have your identification documents with you when visiting Sports Center or other NU sports facilities.
For information on Sports Passes and other questions contact:
Sports Center Concierge at +7 7172 705 721 or nazerke.zhylysbayeva@old.nu.edu.kz.
For Sports Passes call Sports Center concierge at 70 57 21 or email nuathletics@old.nu.edu.kz.
Sports for all
Nazarbayev University aims to create conditions for all community members to participate in sports.
- Taking into account the special needs of people with disabilities, free access to the University Athletic Center pool will be provided from 11:00 to 13:00 hours on weekdays (Monday to Friday).
- There are special swimming hours for girls from 11:00 to 13:00 every Saturday.
For details, please contact Athletic Center reception desk at reception_35@old.nu.edu.kz or call +77172706696.