Health, Safety and Environment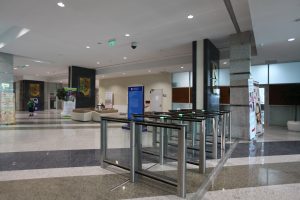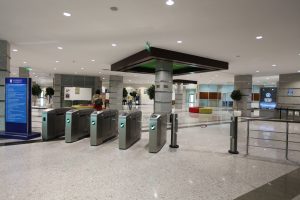 Nazarbayev University is committed to provide safe and healthy environment for the visitors, students, faculty, and staff members. There are different activities aimed to ensure compliance with the national requirements and best international practices in managing health, safety and the environment.
Health and Safety
It is required to attend a health and safety instruction session during the orientation period and first days of employment. The session includes general information and specific details concerning the health and safety arrangements, fire safety rules and procedures, etc. It is also required to complete the health and safety instruction prior to work in the labs.
All the facilities are equipped with the automated fire alarm system and basic fire equipment (smoke detectors, sprinklers, extinguishers, fire hose) to locate and prevent fire. As part of preparedness for emergency situations, building evacuation drills are conducted annually. It is strictly prohibited to smoke, use e-cigarettes within the campus facilities. Consumption of alcohol is not allowed in the University.
Any health and safety concerns shall be reported and discussed with the supervisor or head with a follow-up request with the details of particular case sent to hse@old.nu.edu.kz for consideration and actions by the Health, Safety and Environment Department as appropriate. In case of emergency or fire the University phone +7 (7172) 70 62 62 or 101 shall be used for help and notification.
Healthcare Services
It is required to complete the mandatory medical check-ups which are held prior the studies and employment and then annually to ensure timely diagnosis and prevention of diseases and maintenance of the population's epidemiological well-being. The students, faculty and staff members are provided with the health insurance services. Students may access the Doctor's Office on the campus.
Environment
The University strives to optimize the consumption of natural resources and eliminate the environmental pollution. It has launched Green Campus campaign as one of the initiatives related to its sustainable development and prevention of the global climate change. Collection of paper and other recyclable materials are organized through the containers set up on the territory of Nazarbayev University. Use of less plastic and more reusable dishes (glass dishes and cups) is highly encouraged.
Public Safety and Security
For security purposes, access to the University campus is controlled through the control access points and requires the presence of NU ID cards. Visitors can enter based on approved request sent to the access control services by phone +7 (7172) 70 62 56 or email security@old.nu.edu.kz. All other visitors must register at access points of the University, using their ID cards.
There are 3 car access control points and 2 walk-ins entrance. Cars entering the campus are permitted by valid parking pass and authorized taxi car companies are only allowed to drive in.
For any inquire regarding security please contact to Head of Security Affairs by the e-mail alibek.abdullayev@old.nu.edu.kz or phone  +7 (7172) 70 64 07.