Student Mobility Opportunities
NU recognizes the importance of international exposure that benefits our students and helps them to thrive in their future careers and lives. Thus, NU provides its students with a wide range of opportunities that can enable them to collaborate and communicate in an international/intercultural environment, to understand international contexts and trends, etc. Along with the internationalization at-home strategies, NU also tries to instill global traits through student exchanges and summer schools.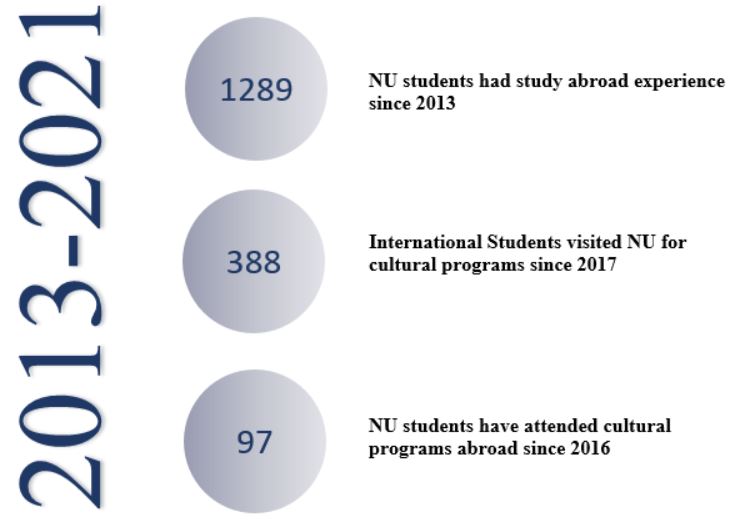 Student Exchange programs               Student Exchange programs
Participation in student exchange program
Important info:
Call for application will be announced by the School in due time, 2-3 months prior to exchange semester start.
Students will be informed via emails.
Funding
Depending on the program a student might need to cover airfare, visa, medical insurance, and daily expenses.
To be eligible to participate in an Academic Mobility, a student must:
be currently enrolled at NU as a degree seeking student;
undergraduate student must have completed at least one academic year at NU and graduate students must have completed at least one semester at NU (for two year Master's programs).
an applicant must be in good standing (i.e. not on probation or conditional status, should not have academic or / and disciplinary sanctions);
have a CGPA of 3.0 and above (does not apply for programs with no GPA);
have no incomplete grades in any courses;
be above 18 years old at the day of application for the Mobility Program;
An applicant must demonstrate to the School Committee that he/she fulfills all of the requirements of the Host Institution.

At the discretion of Vice Provost for Academic Affairs based on recommendation of the Dean any of the above requirements may be waived.
Graduate students may be allowed to participate in the Academic Mobility after completion of courses of their major/core modules, at the discretion of the Dean.
Application process
Applicants submit to the appropriate School Committee:
an application form;
a CV;
a copy of the transcript;
a personal statement (motivation and expected benefits from participating in Academic Mobility programme);
syllabus and other relevant information to comprehensively evaluate the courses an Outbound student intends to enroll.
Each School / program may have additional requirements. It is the responsibility of the student to understand the specific requirements of their School, indicated in the School handbook.
Student exchange application process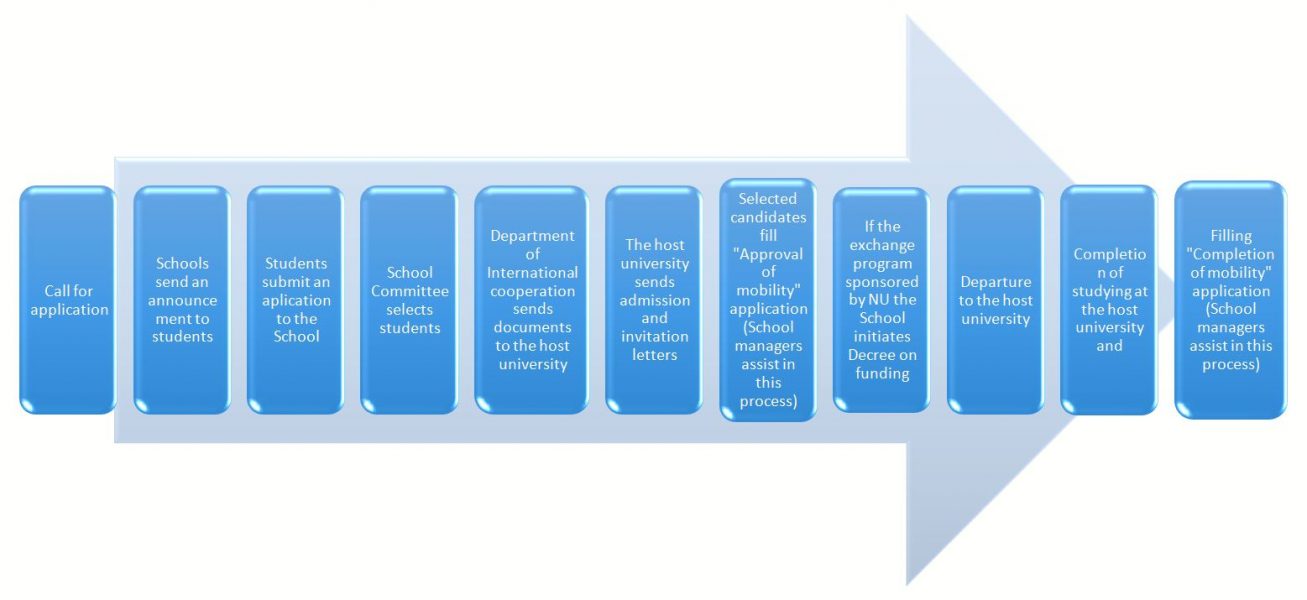 Application forms for exchange