Associate Provost for Graduate Studies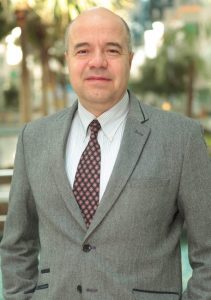 Luis Ramon ROJAS-SOLORZANO
Doctor Luis Ramon Rojas-Solórzano is a visionary, strategic and proactive academic leader who has built a successful career in higher education for more than 30 years. He got his Ph.D. in Mechanical Engineering in 1997 at Carnegie Mellon University, USA.
He started his academic career in 1988 after a 3-year stance in the industry. He got his Bachelor in Mechanical Engineering and MSc in Hydraulics Engineering at the Universidad Simón Bolívar, Venezuela (1985, 1991), which was the place where he grew his first 25 years in academia, retiring as tenured Full-Professor in 2013.
Doctor Rojas-Solórzano has been a visiting professor and scientist in the USA (Carnegie Mellon University, Phillips-Respironics, DRESSER-RAND), France (IMT-Atlantique, Nantes), Spain (UPC), Portugal (UNL-NSCT), and Peru (PUCP). 
After joining Nazarbayev University in 2013, Doctor Rojas-Solórzano has served as Head of Graduate Programs, and most recently, Director of Graduate Studies in SEDS, successfully applying the NU Graduate Framework to masters and doctoral programs.
Doctor Rojas-Solórzano is an experienced academic who practices a student-centered education approach and respects the multiple and varied perspectives of his peer faculty, staff, students, and the community he has served. He believes that influential educational leaders of today appreciate diversity as a valuable resource to strengthen inclusion and enhance excellence in higher education.